Celebrity News,
Betrayed by Her Beloved Twins; both said Janie is Dating Kueng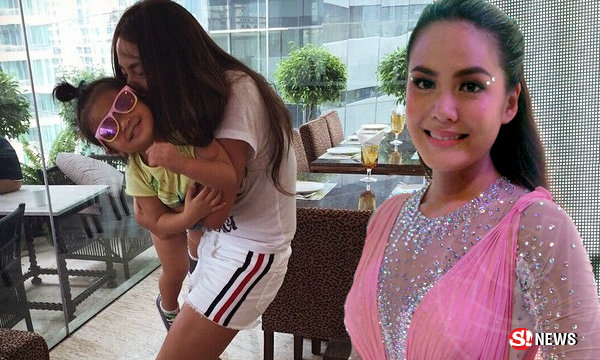 She was gossiped by her beloved twins (Best friend's children) that she is seeing Mr. Chalermchai Mahagitsiri (Thai name: กึ้ง เฉลิมชัย มหากิจศิริ ), a handsome hi-so through a video tape. This got Janie rushing out to explain that it was just words that little kids say for laugh. She confirmed that there is nothing more than friends between her and Mr. Chalermchai Mahagitsiri.
Recently, the twins came out to say that aunt Chiak (Janie's nickname) is girlfriend to uncle Kueng (Mr. Chalermchai Mahagitsiri).
"(Laughs). Truthfully, it's just the innocence and cuteness of little kids. There's nothing much; it was just for laughs."
But they say that words spoken by kids are not lies.
"
Please, don't get the kids involved."
Have you seen the tape?
"No, I have not (smile)."
If the twins said that, does it mean that they see you and Kueng as close together?
"It's probably because Khun Kueng have met both Bena and Brooklyn (twins' names)."
What is the status right now between you two?
"We are seeing as friends, ka. Are we more close, now? Um, everything is still the same. I want to put all my time into my work."
There were news previously that your new business would be funded by him?
"No, it's all me."
But they reported that Kueng was the one paying everything?
"That's not true, you may check everything."
How many people are partnered in this business?
"There are two; me and P' Top, who is the stunner of the broadcast."
Personally, did P' Kueng give you any advices."
"Um...as everyone know, I just recently opened a business, but P' Kueng is experienced with serveral businesses, so of course, he gave me advices."
Does it look like he's interested in helping you?
"No (smile)."
Janie and Kueng.
Janie and the twins
Nana, the twins, and Janie.
SOURCE:
Sanook